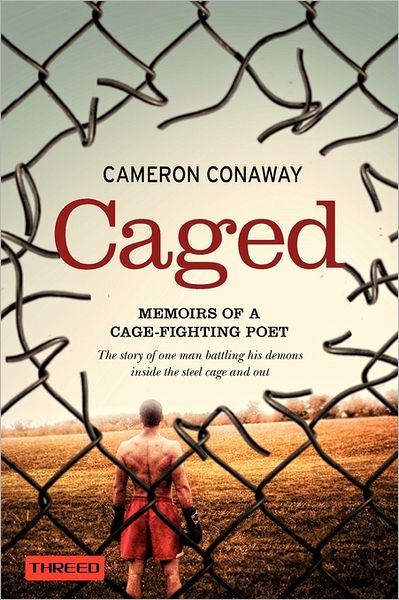 PRODUCT DESCRIPTION:
Accomplished MMA fighter and award-winning writer Cameron Conaway presents in Caged the true story of a young man who overcomes a family background and his own inner torment by learning to channel his frustrations into the physical world of mixed martial arts fighting and the cerebral world of poetry and writing. It teaches the value of personal reflection, how life's most painful moments can lead to a deeper understanding and appreciation of human nature, and just what is possible when optimism and determination combine to overcome tough odds. Caged shows how the pursuit of two seemingly disparate passions helped a struggling boy blossom into a simple man. The result is a literary and lyrical philosophical journey into the heart and mind of a modern-day warrior.
Memoir/Mixed Martial Arts/Martial Arts | ISBN:978-0615521770 | 250 pages
Published 9/1/11 by Threed Press, an author created imprint of MindStir Media
Click here to return to bookstore
Author's official website: www.cameronconaway.com
ENDORSEMENTS:
"I was inspired."
-Ken Shamrock, UFC Hall of Famer
"Cameron Conaway's fierce, fearless memoir offers a clear-eyed look at a brutal childhood, an
angry father, and a son's gathering demons. In the end, though, the author carves his way
forward through an unlikely combination of mixed martial arts, poetry, and human connection.
This book never fails to surprise, and along the way Conaway gives voice and hope to all
young men who must learn to grow up and out of their fathers' footsteps or risk falling into the
same hole."
-Dinty W. Moore, author of Between Panic & Desire
"I couldn't stop reading. Conaway's writing style is as captivating as his story. He takes you
inside the heart, mind and soul of a fighter. He is the voice for all fighters that battle their
demons inside the cage."
-Glen Cordoza, author for Victory Belt Publishing
"Poetical version of Jiu-Jitsu!"
-Saulo Ribeiro, World BJJ Champion, author of Jiu-Jitsu University
"Conaway presents us with a candid story of a never-give-up attitude and an appreciation of
life despite all of its challenges. His expressionism effectively details his endurance in battling
his demons through mixed martial arts and the human spirit. Caged shows us how something
many consider brutal can actually be a vehicle for achieving purpose and a better understanding
of ourselves."
-Jim Arvanitis, Black Belt Magazine's 2009 Instructor of the Year
"There are writers who have ideas, and there are those who have craft. Conaway is both."
-Lisa Hickey, CEO of Good Men Media Inc.