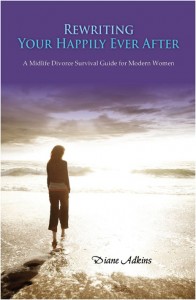 PRODUCT DESCRIPTION:
Although you are never prepared to deal with the stress, trauma, upheaval and changes caused by the end of a marriage, particularly a long-term one, you can, and will, survive your midlife divorce! This guide will help you start the transition from being married to single and from being bitter to better. Whether you are facing the first few days of the divorce or you're already picking up the pieces and moving on, this will become your source to rebuild your life, handle the many challenges that come with change, and rise above the situation. Gain a better understanding of midlife divorce and learn how to let go of the anger, hurt, and blame, and start looking at your divorce not as an end, but as a new beginning for you. Change your negative thinking, improve your self-esteem, increase your confidence, and start rewriting your happily ever after today!





Divorce | ISBN: 9780985365080 | 158 pages | Click here to return to bookstore
Diane Adkins is a master certified life coach, a certified NLP practitioner, author and speaker who works with work with hopeful women who have experienced a midlife divorce, usually after a long-term marriage, who do not want the devastation of their divorce to define their future.
Diane, whose marriage ended abruptly after 23 years, left her successful career in the corporate world to start her own business, Better Beyond Coaching Solutions, in order to help these women identify their new life path – one that's on their own terms and in alignment with their true life's purpose.
Spending over 20 years working in fortune 500 corporations in operations management, marketing and training, today Diane offers a wide range of coaching programs and services.
Certifications and Professional Associations:
American University of NLP: Certified Master Life Coach, Certified NLP Practitioner
Global Sciences Foundation: Certified Law of Attraction Basic Practitioner
VIP Member of National Association of Professional Women
Member International Association of Professional Life Coaches
Awards:
Woman of the Year 2011-2012 NAPW