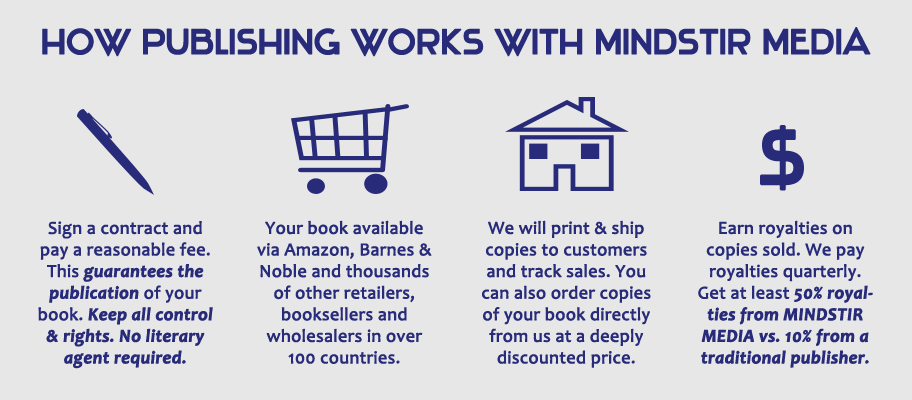 MindStir Media Is A Top Non-Traditional Book Publisher In The USA
MindStir book publishers was founded by #1 Amazon.com bestselling author J.J. Hebert, who continues to work directly with each MindStir author as their marketing mentor/coach. For a reasonable fee, we offer high quality book publishing services such as custom book design, editing, book printing, book distribution, book marketing, mentoring and much more. All of our book publishing services — including customer service — are 100% U.S. based as well. Our books include top bestsellers, award winners and award finalists. We've been seen on Lifetime, OWN, Fox Business, Bravo and other well-known TV networks. We specialize in working with new authors in virtually every book genre, including nearly all fiction, nonfiction and children's book categories, so don't be shy!
What Doesn't MINDSTIR MEDIA Book Publishers Do?
We don't require you to have a literary agent in order to contact us or use our publishing services to publish your book.
We don't pay 10% royalties like many traditional publishers (we offer 50-100% royalties).
We don't make you wait 1-2 years for your book release (we publish most books in 3-6 months).
We don't control the content of your book. We'll work with you to produce the highest quality book possible, of course, but you have the final say over the book design, editing, formatting and nearly everything else. Most of the other top book publishers don't give their authors much input throughout the book publishing process, unfortunately.
We don't take your rights. You keep 100% of your publishing rights as well as copyright rights.
We don't lock you into a long-term publishing contract. You can cancel any time.
We don't treat you like a number (you become our partner in publishing).

Review for MindStir Media LLC, top book publishers

"No matter where you are in your creative process, MindStir Media's ready to partner with you to meet your publishing goals. Here's what you get when you partner with MindStir Media: First of all, you get quality. Your editing will be thorough, your interior design will enhance the readability of your text, and your cover will be attractively designed and will capture the essence of your story in a way that will persuade potential readers to give it a second look. Second of all, you get value. MindStir offers a wide variety of publishing packages and will work with you to ensure you get all the services you need and none that you don't — all at a price that puts full-service publishing well within reach. Finally, you get control. From start to finish, you call all the shots and you retain all the rights to your work. When you couple that quality, value and artistic control with the experience MindStir has gained in this ever-changing landscape — and solid advice on building your audience — you can't go wrong. I'm a writer and by partnering with MindStir Media, I can entrust my book's production to their professionals with confidence and get back to delivering the best story I can. And I'm sure they can help you too. Give them a call. Your book is waiting." –Best-selling, award-winning author Paula Wiseman (7 books published with book publisher MINDSTIR MEDIA, LLC!)