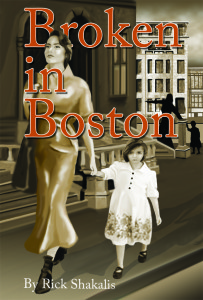 PRODUCT DESCRIPTION:
Broken in Boston takes place in Boston, Massachusetts in the early 1900's, a time when the city was embroiled in major political and social changes. Founded by fundamentalist Puritans and later guardedly run by old-money, so-called 'Brahmins', Boston was always considered a very staid, buttoned-down city. But now, the large influx of Irish immigrants discovered the ballot box, and under the banner of the Democratic Party, began to shake old 'Beantown' to its core by winning elections in this staunchly Republican city. Appalled, the well-established Brahmins were not about to give up their position of power without a fight, however, and the era of rough and tumble Boston politics had begun.
Broken in Boston is the story of Hope Davis, a woman who possessed extraordinary beauty and was blessed with two children, yet was unhappy with herself and the direction her life was heading. Hope, too, was about to undergo a major change. She decided to make a gut-wrenching choice, one considered incomprehensible by most women.
Broken in Boston weaves Hope's story with a backdrop of the rise of political power by the Boston Irish, wealth, prejudice, the influence of the Catholic Church in Boston, a violin-playing nun, drug abuse, mental illness, a brutal double homicide, a couple of dogged detectives and eventually the power of perseverance that leads to redemption and triumph.
People may have found themselves broken in Boston, but learned they didn't have to stay that way.
ISBN: 978-0998318325 | 174 pages | Click here to return to bookstore