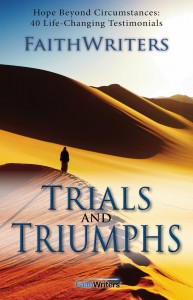 FaithWriters.com is the #1 website for Christian writers, with over 64,000 members worldwide and growing. It's been helping Christian writers and spreading the Gospel for around a decade. It's known as an "encouraging community of Christian writers … A great place to learn and grow in a safe, caring environment…"
Christian book publisher MindStir Media recently partnered with Faithwriters.com to create an inspirational book, Trials and Triumphs: Hope Beyond Circumstances: 40 Life-Changing Testimonies, through which Faithwriters intends to share the hope of Jesus. The stories included in the book come from the winners of a recent contest hosted at Faithwriters.com. The top 40 stories were chosen for inclusion in the book. Christian book publishing is MindStir's specialty, so this publishing partnership is a perfect fit …
In early March 2014, the paperback became Amazon's #17 Christian Evangelism Bestseller. The Kindle edition spent time as the #1 Christian Evangelism Bestseller and #2 Christian Inspiration Bestseller!
Buy TRIALS AND TRIUMPHS by Faithwriters (2014, MindStir Media Christian Publishers)
Amazon.com | Barnes & Noble | Books-A-Million
Published by MindStir Media, top Christian book publishers, USA
$14.99 (softcover), $6.99 (ebook)
Read the MindStir Media press release (3/25/14)
Interested in publishing with one of the best Christian publishers in USA?
Give us a call at 800-767-0531 or email us at authors@mindstirmedia.com