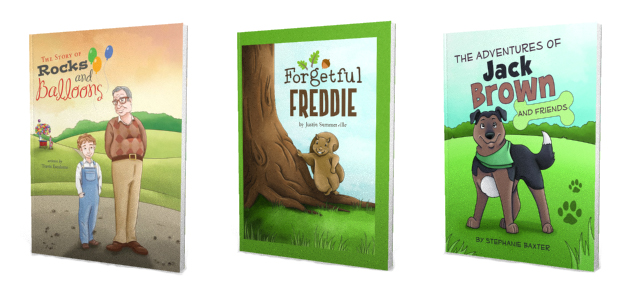 Ready To Start Publishing Your Children's Book?
We're here to help you self-publish, distribute, and market your children's picture book. We even provide mentoring from a bestselling author! Your mentor, bestselling author J.J. Hebert, will collaborate with you on marketing. You'll also receive one-on-one support from a project manager who has been assigned to you and your children's book publishing project. Your project manager will be available by phone and email to answer your questions and address your concerns as well as act as the liaison between you and your MindStir Media book designer. All of this is provided to you so you'll be fully supported! Keep reading for more info …
How Does Children's Book Publishing Work?
Publishing your children's book with us is very easy. You'll simply submit your story and illustrations to us and we'll transform it into a professional and eye-catching full-color paperback based on your vision. You'll have final say over the content and design of your book! You'll even be able to choose between three book sizes: 8.5 x 8.5″ (Portrait Orientation), 8.5 x 11″ (Portrait Orientation), and 8 x 10″ (Portrait Orientation). Binding options for this Children's Book Package include saddle-stitch (minimum of 4 pages) and perfect binding (minimum of 24 pages). Your full-color (cover & interior pages) children's book will be professionally printed using the latest and most advanced print-on-demand technology in the world. Then we'll ensure that your paperback is available via major online retailers such as Amazon.com and its international sites, BarnesandNoble.com, BooksAMillion.com, Powell's, and many more. We also include distribution through Ingram, the largest wholesale distributor of books in the country.
What is Print-On-Demand in Children's Book Publishing?
Basically, it's just a technology we use to print your paperback after a customer buys it. We don't require you to purchase copies of your own book. Our authors also enjoy automatic distribution of their books. For instance, when a reader buys a copy of your children's book from Amazon.com (or any retailers), that sale is reported to us. A copy is ultimately printed "on-demand," packed and shipped to the customer. So don't worry about buying thousands of copies of your book, storing your books, and taking countless trips to the post office… We'll handle all the order fulfillment and provide you with quarterly royalty reports and payments.
The Details from MindStir Children's Book Publishers…
This has to be a huge investment, right? The answer is a resounding "no!" You'll get all the basics and more for only $1,399, when you submit your own illustrations/images to us for publishing. Study the publishing chart at the bottom of this page if you need us to create illustrations and perform extra marketing for you such as publicity and author website creation….
See the children's book publishing services included in this $1,399 package:
Custom Cover Design – Your paperback (trim size and binding options shown above) will be given a custom cover based on your illustrations.
Full-Color Interior (Custom Design) – Unlike most of the other packages, the Children's Book Package includes a full-color custom interior. We'll design your unique color interior based on illustrations you provide.
Ongoing Mentoring from a Bestselling Author – Bestselling author J.J. Hebert will be your mentor throughout the publishing process and beyond.
Unlimited Image Insertions – We don't limit the amount of full-color images in your book. Use as many as you'd like.
Back Cover Copy Polish – A professional will polish your back cover copy to make it even more attention-grabbing.
ISBN Assignment – We'll supply you with a unique 13-digit International Standard Book Number (ISBN) and then assign it to your book. Why is an ISBN important? Most bookstores and retailers will reject a title that lacks an ISBN.
Barcode – The 13-digit International Standard Book Number (ISBN) is encoded in the barcode, which is required by most bookstores. A barcode is positioned on the back of each book, enabling bookstores to quickly scan your book into their system and ultimately track inventory.
Library of Congress Control Number & U.S. Copyright Notice
Global Distribution – Your book will be sold through major online booksellers such as Amazon.com, Barnes & Noble, Powell's Books, Books-A-Million, and many international sites as well. Your book will be available in the following markets: United States, United Kingdom, Canada, European Union, and Australia. We also provide distribution with Baker & Taylor and Ingram.
Author Sets Retail Price – Unlike most of our competitors, we give you the option to set the retail price for your book, based on length, comparable works, and format. This way you won't be stuck trying to sell a high-priced paperback at Amazon.com, for instance. And, Of course, you can buy discounted copies of your own book and sell them yourself for less than the retail price.
Fast Book Printing – Books ship 2-4 business days after receipt and acceptance of the order.
Complimentary Proof Copies – We'll send you the electronic proofs (i.e. eproofs) — usually a JPG for the cover design and a PDF for interior pages. Once you approve those eproofs, we'll mail you a paperback proof copy for final approval.
Online bookstore page for your book – Your book will get its own webpage in our online bookstore.
Advertising via the MindStir Media Twitter & Facebook accounts – We'll advertise your book via our Twitter and Facebook accounts, which reach over 46,000 fans/followers combined (as of Sept. 2015)!
One-on-one Author Support – Questions, concerns, and comments—these will be handled by a representative assigned to you.
Book Discount Program – You may purchase discounted copies of your title (to sell at signings or at your Web site, for example).
Non-exclusive Contract – You retain all rights to your manuscript.
No Hidden Fees – The price you see is the price you pay. No hidden fees!
50% royalty on net sales – This means you'll get 50% of the profits for each copy sold through our distribution partners, e.g. Amazon.com, BN.com, etc.
Do You Need Illustrations for Your Book? How About a Press Release & an Author Website?
Compare the Children's Book Publishing Options Below
Ready to start your children's book publishing journey?
Sign up for a consultation to discuss our services!