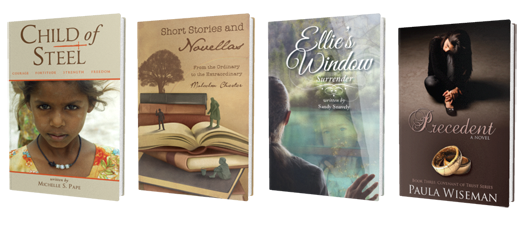 (Examine the Publishing Packages Comparison Chart instead)
Our Most Comprehensive Self-Publishing Package
For $9,999, you get everything included in Emerald, plus the revolutionary Twitter Blast to 500,000+ Twitter followers; an endorsement/blurb from bestselling author J.J. Hebert; and Ingram Advance advertising to about 7,000 top U.S. booksellers and librarians. See details below.
See all the self-publishing services included in this package for $9,999:
Editorial (i.e. proofreading) – This is not an "editorial evaluation" like other self-publishing companies supply. A professional editor assigned to you will proofread your entire manuscript. Our freelance editorial team has edited lots of successful books, many for well-known traditional publishing companies** such as Simon & Schuster, Macmillan, Princeton University Press, and Barbour Publishing.
Custom Cover Design – It's imperative for your paperback (6 x 9″, perfect binding) to have the most attractive custom cover possible. With the help of our design partner(s), your title will be given an amazing, eye-catching design.
Black & White Interior (Custom Design) – We will design a unique interior for your book using elements from the custom cover. This will give your book the most professional appearance possible.
Ongoing Mentoring from a Bestselling Author – Bestselling author J.J. Hebert will be your mentor throughout the publishing process and beyond.
Unlimited Image Insertions – Include as many black and white images in the paperback as you want. Other self-publishing companies put a limit on paperback image insertions and then charge extra per image.
Back Cover Copy Polish – A professional will polish your back cover copy to make it even more effective and attention-grabbing.
ISBN Assignment – We'll supply you with a unique 13-digit International Standard Book Number (ISBN) and then assign it to your book. Why is an ISBN important? Most bookstores and retailers will reject a title that lacks an ISBN.
Barcode – The 13-digit International Standard Book Number (ISBN) is encoded in the barcode, which is required by most bookstores. A barcode is positioned on the back of each book, enabling bookstores to quickly scan your book into their system and ultimately track inventory.
Library of Congress Control Number & U.S. Copyright Notice
Global Distribution – Your book will be sold through major online booksellers such as Amazon.com, Barnes & Noble, Powell's Books, Books-A-Million, and many international sites as well. Your book will be available in the following markets: United States, United Kingdom, Canada, European Union, and Australia. We also provide distribution with Baker & Taylor and Ingram.
Author Sets Retail Price – We give you the option to set the retail price for your book, based on length, comparable works, and format. This way you're not stuck trying to sell a high-priced paperback at Amazon.com, for instance. And, of course, you can buy discounted copies of your own book.
Author Sets Wholesale Discount – Set the wholesale discount for your paperback as low as 30% (short discount) and as high as 55% (standard trade discount, ideal for bookstore sales). The wholesale discount chosen will affect your royalty amount.
Fast Book Printing – Books ship 2 business days after receipt and acceptance of the order.
Complimentary Proof Copies – We'll send you the electronic proofs (i.e. eproofs) — usually a JPG for the cover design and a PDF for interior pages. Once you approve those eproofs, we'll mail you a paperback proof copy for final approval.
50 Free Paperback Copies
Online bookstore page for your book
Advertising via the MindStir Media Twitter & Facebook accounts
One-on-one Author Support – Questions, concerns, and comments—these will be handled by a representative assigned to you.
Book Discount Program – You may purchase discounted copies of your title (to sell at signings or at your Web site, for example).
Non-exclusive Contract – You retain all rights to your manuscript.
No Hidden Fees
100% Paperback Royalty on Net Sales
Paperback Return Program – Offering your title as 'returnable' gives your book a much better chance of being stocked by bookstores.
Ebook Conversion and Publishing
Ebook availability on Amazon Kindle, Barnes & Noble NOOK, Apple iPad/iPod Touch/iPhone, BlackBerry, Android, PC, Mac, etc.
100% Ebook Royalty
Author Website – Site comes with page editor, unlimited new pages, pre-loaded pages, dynamic site menu, users, site search, site stats, comment functionality, SEO pack, state-of-the-art security, and much more. (You are responsible for purchasing hosting and a domain).
Press Release with Distribution – We'll write a professional press release for you and distribute to online news outlets.
Google Ads for 60 days (click here to learn about advertising your book on the Google Display Network)
*Endorsement by bestselling author J.J. Hebert – If your title is approved for this package, J.J. Hebert will provide an endorsement, i.e. blurb to be used on the back cover and product description of your book. An endorsement from a bestselling author has been known to increase sales.
Ingram Advance catalog – Highlight your title to bookstore and library buyers across the globe. Purchase an annotation in Ingram's popular Advance catalog. Published monthly and distributed five weeks prior to the issue month, Advance is a comprehensive title listing and purchasing tool. Included are hardcover, trade paper, audiobook, gifts & games, and mass market titles. Circulation: 7,000 top U.S. booksellers and librarians; and in PDF format to over 27,000 international and domestic customers.
Twitter Blast – Through partnerships on Twitter, we're able to "tweet" (i.e. post) your book on Twitter to 540,000+ Twitter followers (readers, editors, and publishers, etc.). This is a 3-day campaign with 10+ tweets total (using four different Twitter accounts in our network).
*Manuscript must undergo a stringent evaluation for marketability in order to be eligible for this package. J.J. Hebert reserves the right to decide at his own discretion whether a manuscript is eligible for this package option. A $500 nonrefundable manuscript evaluation fee is due upfront and will be applied to the package price if the manuscript is accepted.