So, you have a product or book or service you need to publicize? You've written a press release — or plan to — but how will you distribute the press release? We offer highly effective press release distribution services. You don't need to purchase an annual subscription or pay $300 to distribute a press release. We'll help you distribute your press release to the masses for as low as $47. Finally, get the exposure you deserve without the high prices!
We have two affordable press release distribution programs: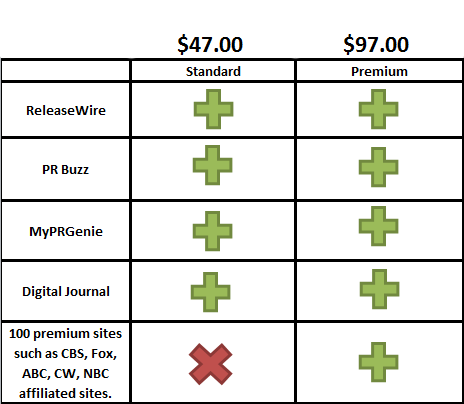 More details:
ReleaseWire, formerly SBWire. This is one of the world's leading PR distribution companies.
PR Buzz: The PR Buzz Press Release Newswire is renowned for its SEO (Search Engine Optimization) benefits as well as its reach. This distribution site allows up to 5 hyperlinks or text links in each press release. It also automatically places press releases in thousands of top search engines, news sites, blogs, social networks, newspaper sites, TV news sites, and radio new sites. Potentially reach thousands of media contacts, bloggers and customers worldwide!
MyPRGenie: A posting of your press release on MyPRGenie could prove to be invaluable for your business or product.
Digital Journal: As a popular Internet news service, Digital Journal could help you find new customers via a posting of your press release.

PREMIUM PROGRAM ONLY: Distribution to 100 more major premium outlets such as CBS, Fox, ABC, CW, NBC affiliated websites.
STANDARD: $125.00 $47.00

PREMIUM: $175.00 $97.00