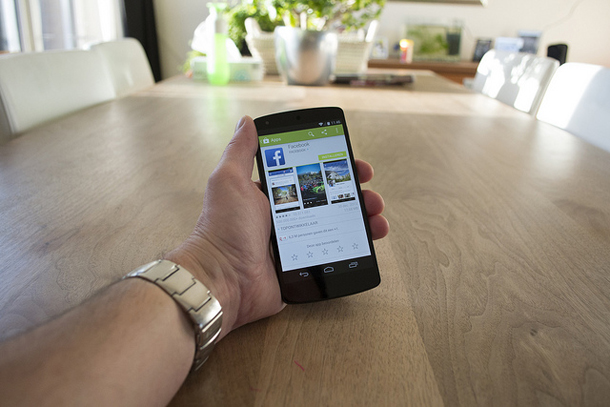 Most Facebook marketing articles give what I call "entry-level advice" or provide a sort of "Facebook 101" experience, and that's great for folks who haven't yet delved into Facebook for marketing their books and products. You'll see articles such as 'How to Setup a Fan Page' or 'How to Get More Facebook Likes'. But what about advanced Facebook marketing tips and strategies for authors and entrepreneurs? There are many authors/entrepreneurs already using Facebook for marketing – and I'm assuming that you're one of them (or you will be). You're probably looking for ways to improve your current Facebook marketing experience. So here are my top advanced Facebook marketing tips for authors/entrepreneurs…
1) Use Facebook Insights to see what's working and what is not working. Your main objective with Facebook marketing should be to drive targeted traffic to your website. Traffic that will ultimately convert into sales. In order to do that, you need to create outstanding content. Content that makes people want to share it with their friends. Once you've taken that Facebook 101-ish step, your focus must turn to your Facebook Insights (i.e. analytics). I'm going to include a few screenshots. In the first screenshot you'll notice the Insights button at the top of the page. I've circled it for effect.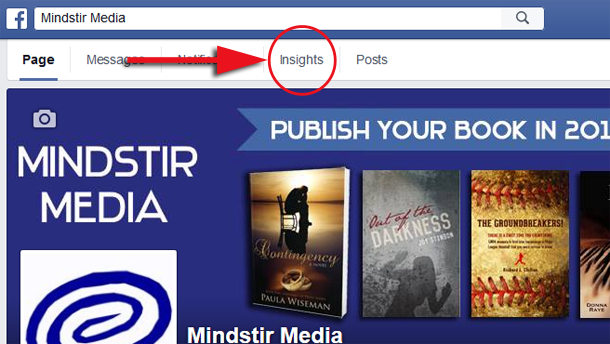 You must be logged in to your page to see that button. Click it and that will bring you to the Overview section of your Insights (see Screenshot below).  That area gives you most of the info you need – overall Post Reach, Engagement stats, Page Likes, analytics for your 5 most recent posts, etc. Admittedly, I'm not going to get into every single aspect of Insights. I'm instead going to focus on the pieces I feel are most important. Yes, this is my opinion….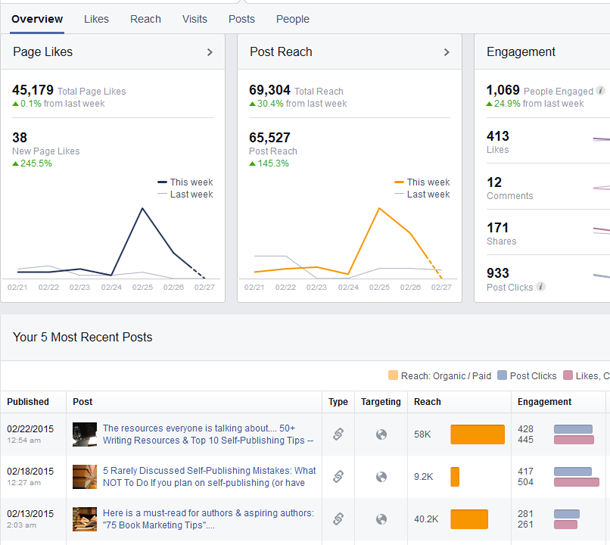 Looking at the above screenshot of the overview section, you should notice a few things right away. First, the Post Reach is really solid. I didn't arrive at those numbers organically (more about that later) but I'm happy to see that my posts have reached just shy of 70,000 in the past week. That's something you should be looking for! Second, the Engagement numbers are up. I have a solid number of likes and shares and post clicks. Third, my recent posts were successful despite using various post times. Many experts will tell you to post at certain times during the day or on certain days, but there's no way to generalize in that regard.  The best time to post content is entirely dependent on your content and your audience. An ideal time and day for one brand won't be ideal for another. That's why your own Insights are so important. Don't ignore them!
2) Focus on link clicks, not so much on likes. This leads me back to Insights. You can click on any of Your 5 Most Recent Posts (or See All Posts to delve deeper) within Insights and it will give you Post Details on that specific post (see Screenshot below).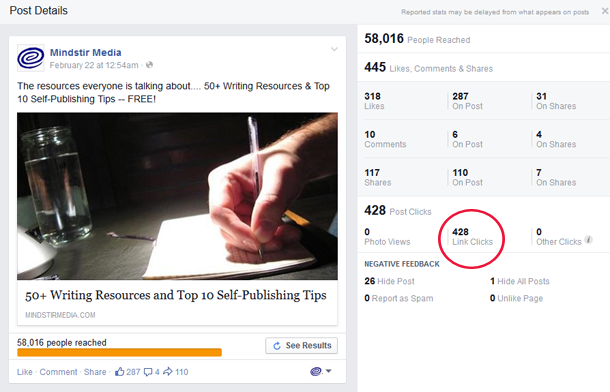 For this example, I'm using a link post I created recently. That means I simply linked out to a page on my website (added a URL (http://www.)) and waited for the preview (image used on the blog post) to appear on the Facebook post, and then I deleted the URL from the post and added a quick title. That way every time someone clicks the image they are automatically sent to my website. This post received 318 likes, 10 comments and 117 shares. Fairly solid results but I'm not all that interested in those stats. I'm interested in traffic generation above all else. I used the Link Post method instead of the Photo Post method because Facebook is now getting away from giving photo posts priority. What in the world is the difference between a photo post and a link post? A photo post (for driving traffic) is where you upload a photo to the Facebook post and then add a call-to-action (CTA) with a URL to that photo post, such as The resources everyone is talking about…. 50+ Writing Resources & Top 10 Self-Publishing Tips – FREE: http://www.mindstirmedia.com/50-writing-resources-and-10-self-publishing-tips/. Generally, people will click on the photo to learn more or see more but clicking on the photo in that case will not send traffic to your website. Only clicking on the actual URL in the post will result in traffic generation. Notice in the latest screenshot how it mentions Post Clicks. There are three categories– Photo Views, Link Clicks and Other Clicks. They all count toward your overall Post Clicks. Many authors and entrepreneurs look at that stat and believe that the total number of Post Clicks is the total number of visitors sent to the website. That will always be false with a Photo Post! You'll see a large number of Other Clicks and Photo Views and Link Clicks. Photo Views is simply as it sounds. Other Clicks is defined by Facebook as "clicks not on the content of the post." So if your Photo Post receives 500 Post Clicks but only 10 of them are Link Clicks, you have a MAJOR problem. In my example above, 100% of the Post Clicks are actual Link Clicks because I used the link post method. A Link Click equals a website visitor.
3) Use Facebook for building your email list. Facebook 101 tells us that we should focus on garnering likes, shares and comments. Those are all important aspects of Facebook marketing; however, you shouldn't totally rely on Facebook as your traffic source! You don't own your Facebook page. Facebook can change their algorithms any time they'd like – and they have. In fact, just recently they decided to cut back on the amount of organic reach they give pages. For those reasons, it's crucial that you use Facebook to build your email list. You can contact the folks on your email list any time and you don't have to worry about ever-changing algorithms. You'll own the list! An easy way to use Facebook to build your email list is to simply direct traffic to an optin page on your website. Look at the latest screenshot… When people click that link post they are sent to an optin page on my website, where they are asked to fill in their name and email address.
4) Understand that organic "reach" has changed and you'll now have to pay to reach a high percentage of your fans. Sure, you can still see some decent organic reach numbers, but those numbers have drastically declined across the board. You may have noticed that the non-promoted posts you send out are now receiving less engagement than ever before. Facebook is now encouraging Page users (notice I didn't say "Owners" because you don't own your page) to advertise, advertise, advertise. Now, I understand this is a touchy subject for many authors and entrepreneurs. You attracted all these fans – they opted in to receive your updates and now they can't see all your updates? It doesn't  seem entirely fair. However, simply grumbling about it and refusing to pay Facebook a dime will not help you in the long-run. Remember those Post Reach stats I shared earlier? I had mentioned that I didn't reach those numbers organically. That's right; I used Facebook ads. I have a monthly Facebook budget that I keep. But I only pay Facebook for traffic that I drive to my website! In other words, I'm not "promoting" cute photos or inspirational quotes. I only promote link posts and I end up spending somewhere between 20 cents to 50 cents per link click (i.e. website visitor), which is dirt cheap for targeted traffic. I advise you to set aside a small Facebook advertising budget for each month and only promote link posts.