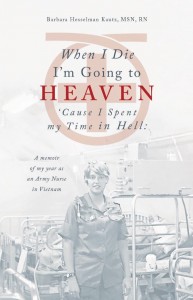 PRODUCT DESCRIPTION:
WHEN SHE WAS 18 Barbara Hesselman joined the Army to finance her nursing education. A little more than four years later, and with less than six months of nursing experience, she was assigned to the 24th Evacuation Hospital in South Vietnam. On the neurosurgical intensive care unit where she worked, she and her fellow soldiers fought for the lives of the wounded – and sometimes their sanity – with hard work and silly antics that included a mascot named Mighty Ralph. The rhythms of daily life at the 24th Evac have faded from Barbara's memory. What remains are distinct stories involving the patients, corpsmen, doctors, and nurses. Although the Vietnam Conflict serves as the backdrop for When I Die I'm Going to Heaven 'Cause I Spent My Time in Hell Barbara's stories of heroics, love, loss, despair and even joy are timeless.
ISBN: 978-1939739162 | 230 pages | Click here to return to bookstore
Published by Piscataqua Press, an imprint for which MindStir Media handles the book design, printing, and distribution.