Self-publishing is the fastest-growing segment of book publishing. There are many good reasons for this, maybe hundreds, but you probably don't have time to read hundreds of reasons. So we've simplified things by creating an infographic (see below) to succinctly answer the question "why self-publish?" Also below you'll notice 10 reasons you should choose MindStir for your self-publishing journey. We're rated by many of our authors as the best of self-publishing companies.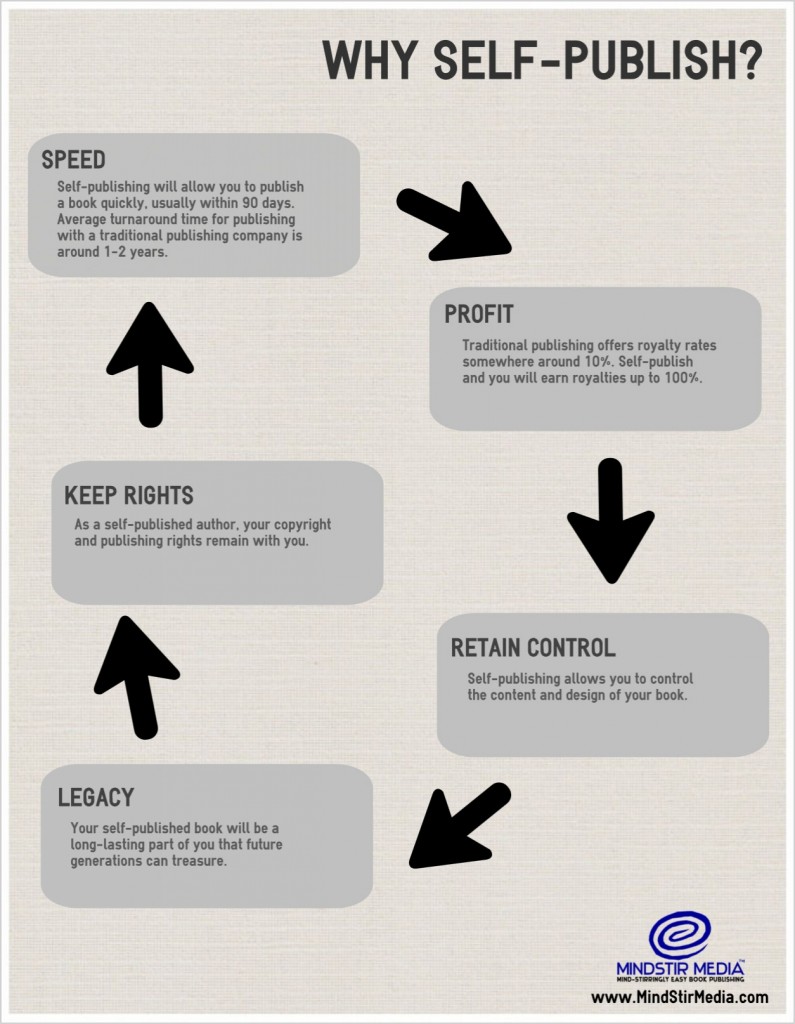 Top 10 Reasons Why Self-Publishing with MindStir Media Makes Sense:
It's important to understand that you don't have to be alone during the self-publishing process. MindStir Media has successfully helped thousands of authors with self-publishing, through consultations and self-publishing services, making MindStir one of the best self-publishing companies in the USA in the eyes of many.
1. Personalized Customer Service & Support – You'll never be tossed around from one rep to another. Once you sign an agreement with MindStir to help you self-publish your book, you'll have access to founder and president, J.J. Hebert. Additionally, you'll be assigned one author representative who will be your primary contact person here at MindStir Media.
2. Mentoring from a Bestselling Author (available with all self-publishing packages) – J.J. Hebert, bestselling author of Unconventional, will be your official mentor, offering exclusive self-publishing and book marketing tips and advice. No other self-publishing companies offer this!
3. Bookstore-quality Custom Book Design – We've been told our designs (book covers & interiors) match the quality produced by major publishing houses. One prime example is Contingency: Book One: Covenant of Trust Series, one of our bestselling books, which was recognized as a winner for Interior Design-Fiction by the National Indie Excellence Book Awards. Readers do judge a book by its cover, so it's crucial that your cover is eye-catching and professional. We'll do that for your self-published book.
4. Professional Editorial – Editing (i.e. proofreading) is included in most of our self-publishing packages. If you've ever tried to edit a book yourself, you know how difficult it can be. Leave it to the pros! Our editorial team has edited hundreds of successful self-published/traditionally published books, many for well-known/major publishing companies such as Simon & Schuster, Macmillan, Princeton University Press, and Barbour Publishing (MindStir is not officially affiliated with any of the aforementioned companies). Copy-editing is also available for an additional charge.
5. Unparalleled Royalties – You, the author, receive royalties up to 100% for your self-published book.
6. Control – You control the content and book design. Other self-publishing companies sometimes retain the control.
7. Global Distribution – We sell self-published paperbacks & hardcovers through major online booksellers such as Amazon.com, Barnes & Noble, Powell's Books, Books-A-Million, etc. Our titles are also available in the following international markets: United Kingdom, Canada, European Union, and Australia. We also provide wholesale distribution through distribution companies such as Baker & Taylor and Ingram.
8. Fast, High Quality Printing – Books are professionally printed using the most advanced print-on-demand technology on the planet. Each book we print includes a full-color cover. We offer black & white interior page printing as well as color interior page printing (the latter is ideal for children's book publishing, for example). Your self-published paperback/hardcover book will be of the highest quality!
9. Quick Publishing Turnaround Time — MindStir books are usually published within 90 days. This is one of the best turnaround times you'll see in the self-publishing industry.
10. Keep all rights — Our authors retain 100% of their publishing rights as well as their copyright. We're one of the few book publishers offering this.